What's New
HKIA Scholarship
HKIA welcomes submission of scholarship application for training / study / research programmes overseas. It is open for application until 30 September 2016.
<click here for more information>

HKIA Education Fund for Local and Overseas Conference
HKIA welcomes submission of education fund for local and overseas conference. It is open for application until 30 September 2016.
<click here for more information>

HKIA Annual Awards
HKIA Council is pleased to announce that annual awards will be given to members with contributions related to allergy in Hong Kong.
<Click here for more details>

World Energy Outlook Special Report on Energy and Air Pollution 2016
"World Energy Outlook Special Report on Energy and Air Pollution 2016" by the International Energy Agency has been published.
<Click here for more details>

HKIA Educational Series on Hong Kong Economic Journal
HKIA is publishing a series of 12 educational articles in the Hong Kong Economic Journal (信報醫療版) biweekly starting from 25 May 2016. They can be read as below:
<
Click here for the articles
>
HKIA e-Newsletter (May 2016 issue)
The HKIA 3rd e-newsletter is launched on 9 May 2016. Click here to read the newsletter.
HKIA Council Member and Advisor Honoured
We are pleased to announce that Professor Yu-lung Lau (HKIA Advisor) is elected as the President of Hong Kong College of Paediatricians (2015 - 2018) and Professor Gary Wong (HKIA Council Member) is elected as the President of Asia Pacific Association of Paediatric Allergy Respirology and Immunology (starting from 2013).
New Patron of HKIA
HKIA is pleased to announce that Dr. Ko Wing-man, Secretary for Food and Health in The Government of Hong Kong Special Administrative Region, has accepted the invitation to be the Patron of HKIA from 13 April 2015. The previous Patron, the late Sir QW Lee served with great distinction and HKIA will be working under Dr. Ko's leadership to drive forward its ambitious agenda in the coming years to improve allergy service provision, training and research.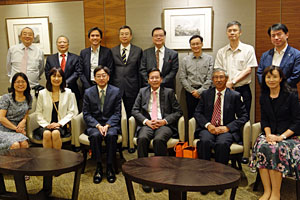 Useful Links
About HKIA
The Hong Kong Institute of Allergy was founded in 1995, by a group of Allergists, Chest Physicians, Paediatricians and Dermatologists, to promote the discipline of allergy. Founding members included Dr. Donald Yu, the late Dr. William Yip, Dr. Helen Chan, Dr. Patrick Yuen, Dr. John Leung, Dr. Christopher Lai and the late Dr. Avery Chan.
HKIA Research Grant
HKIA welcomes submission of research grant proposals. It is open for application until 31 March 2016.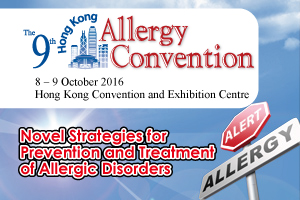 Breaking News
The Organizing Committee of the Hong Kong Allergy Convention 2016 is happy to announce the offer for medical undergraduates to attend the Convention free of charge. For post-graduates, the fee would be 50% of the allied health rate.

Applicants would need to submit documents for proof of their status:

1. We accept e-copy of student ID cards that show the name of the student and their effective (normative) study period as well as the name of the University. Please note that we shall delete these e-copies permanently after our secretariat can verify their status.
OR
2. Certifying letters from their supervisors.